A young sea lion waddled through two sets of automatic doors, a reception area and a cafe to swim in a public pool yesterday.
About 100 swimmers couldn't believe what they were seeing, but swimmers initially remained in the main pool after the laidback sea lion decided to sun himself near the toddlers' pool. Everyone left the water after the animal took a dip mid-afternoon.
The sea lion arrived at the pool's entrance in the morning and had a sleep.
As the sun went around and it ended up in the shade it got up to move and the doors opened. It let itself in.
The 83°F temperature clearly pleased the sea lion, used to a chilly 57°F average in the ocean.
Crowds were eventually moved out of sight to "bore" the sea lion out of the pool.
"We did it so it was more quiet and boring for it. It was looking around and thinking 'where is everyone?'. So it made its own way out, back through the double doors, through the cafe and reception and through the next double doors."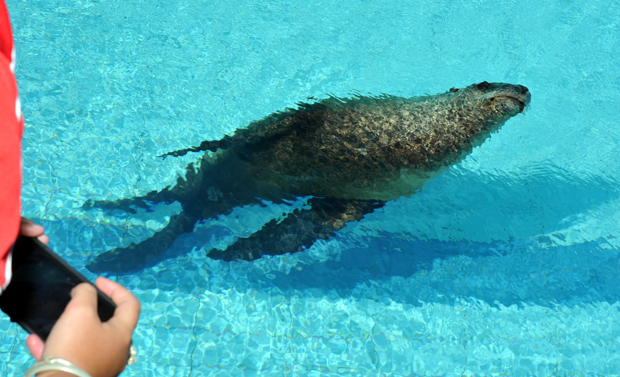 https://www.youtube.com/watch?v=zsuMhPeezOA